Introduction
Today, technology is evolving at a rapid pace and impacting almost every aspect of our lives, including the way we work and do business. One area that has been vastly improved by digital innovations is time tracking. Traditional methods, such as handwritten notes and paper time recording, have proven to be very imprecise and susceptible to fraud.
In this article we discuss why digital time registration is necessary and why its integration within an ERP system works more efficiently and better. We then discuss the limitations of QR codes for time registration and explain how Klien-IT offers the solution for the cleaning industry in terms of time registration.
The Benefits of Digital Time Registration
Accuracy and Time Saving
With digital time registration, employees can quickly and easily record their clock-in and clock-out hours using an App on their phone. This improves accuracy, but mainly prevents the risk of fraud and manipulation of hours worked. An app registers where and when you clock. So you can't just fill in some times.
Real-time Insight
An integrated time tracking app provides real-time insight into employees' hours worked. Employers can track their staff's attendance at any time, allowing them to better plan and intervene when someone doesn't show up.
Efficient time management
By implementing digital time registration, it becomes easier to check and approve the hours worked. The system automatically shows which times deviate, so that you do not have to go through every line. This ensures timely and accurate payroll processing.
Everything in order
Digital time registration offers companies the opportunity to comply with legal regulations and labor laws regarding working hours, breaks and overtime. Keeping this information digital makes it easier for employers to verify compliance and avoid any potential compliance issues.
The Limitations of QR Codes and Tags for Time Tracking
While QR codes are useful tools for many applications, they have some limitations when it comes to time tracking. Below we break down the restrictions into a number of headings.
Limited Security
QR codes can be easily scanned and copied by anyone who has access to them. This means that employees are able to fake their clock-in and clock-out hours simply by taking a picture of the code and using it later. This way they can easily clock in from home or adjust the QR code.
Unreliability of Physical Codes
Physical QR codes can get damaged, fade or become illegible, which can make it difficult for employees to scan them. This can lead to inaccurate time recording and frustration for both employees and employers.
Limited Functionality
QR codes do not provide additional functionality for capturing relevant data, such as reasons for leave, project codes or specific tasks. An integrated app does offer these functionalities. In addition, the content of the App can be easily adjusted, just see how to adjust all QR stickers at any location…
Klien-IT: The Best Solution for Cleaning Companies
When developing a time administration module in Klien-IT, we mainly assumed the convenience for the employee on the work floor and the back office.
For the employee, time registration consists of just one click on the clock when clocking in and also when clocking out. The employee also immediately sees when he has clocked in or out too far or at the wrong time. This creates awareness among employees of their mistakes.
In the back office you can watch live who is clocking where at what time. This way, there is always access to the current clock status. In addition to recording when employees clock in and out, it is also automatically determined where they do this. This way you always know whether they have been on the project during working hours.
For the check, Klien-IT uses simple overviews in which the deviations are already shown. This means you don't have to go through every list, but you immediately see where things go wrong.
Conclusion
Digital timekeeping has become essential for modern businesses and its benefits are obvious. An integrated app offers accuracy, time savings, real-time insight and efficient time management. On the other hand, QR codes are limited in functionality and have security and reliability issues.
Klien-IT offers the best solution for the cleaning industry, with specific functionalities, mobile accessibility and powerful reporting and analysis options. By embracing digital time registration and opting for an integrated app such as Klien-IT, cleaning companies can significantly improve the efficiency, accuracy and productivity of their operations.
Vandaag de dan gaan de (technologische) ontwikkelingen razendsnel. Hierdoor is het voor bedrijven belangrijk om mee te gaan met deze trend. Het gebruik van een modern, flexibel en toekomstgericht systeem speelt hierbij een erg belangrijke rol. In deze blog leggen we uit waarom het belangrijk is om gebruik te maken van een dergelijk systeem en een stap verder te zetten naar de toekomst.
Efficiëntie
Als bedrijf ben je volledig afhankelijk van het softwaresysteem. Elk proces draait hierop en het is dus belangrijk om hier goed op te letten qua gebruikersgemak. Een modern systeem draagt bijvoorbeeld meer bij aan de efficiëntie van de bedrijfsvoering. Het kan bijvoorbeeld processen automatiseren en integreren, waardoor er minder tijd nodig is voor administratieve taken en er meer tijd overblijft voor de daadwerkelijke uitvoering op de werkvloer. Ook kan het systeem real-time inzicht geven in de bedrijfsvoering, waardoor er sneller en beter beslissingen kunnen worden genomen. Daarnaast maken de moderne systemen meer gebruik van dagelijks gebruikte tools. Hierdoor wordt het sneller herkend door uw medewerkers en wordt het meer gebruikt.
Kostenbesparing
Een modern systeem kan ook bijdragen aan kostenbesparing. Door processen te automatiseren en te integreren kan er efficiënter worden gewerkt, wat kan leiden tot lagere kosten in administratief personeel. Ook kan het systeem helpen bij het verminderen van fouten en het voorkomen van dubbel werk, wat kan leiden tot minder verspilling van tijd en middelen.
Tegenwoordig is software ook niet meer duur. Waar verouderde systemen nog gebaseerd zijn op de prijsmodellen uit het begin van deze eeuw (denk aan een x bedrag per gewerkt uur of kosten voor service) zijn nieuwe systemen makkelijker aan te passen en wendbaar voor een vaste prijs.
Flexibiliteit
Toekomstgerichte systemen dragen ook bij aan de flexibiliteit van een bedrijf. Het kan bijvoorbeeld gemakkelijk worden aangepast aan veranderende marktomstandigheden, nieuwe wet- en regelgeving en andere veranderingen in de omgeving van het bedrijf. Ook kan het systeem helpen bij het snel en gemakkelijk implementeren van nieuwe processen en het integreren van nieuwe technologieën.
Toekomstgericht
Nieuwe softwaresystemen dragen bovendien bij aan de toekomstbestendigheid of het bestaansrecht van een bedrijf. Het kan bijvoorbeeld helpen bij het anticiperen op ontwikkelingen en trends, zoals nieuwe technologieën en veranderende marktomstandigheden. Ook kan het systeem helpen bij het ontwikkelen van nieuwe producten en diensten die aansluiten bij de behoeften van de markt. Hierdoor speel je als bedrijf beter en sneller in op de wensen van de klanten.
Competitief voordeel
Bedrijven die gebruik maken van een dergelijk systeem kunnen sneller en efficiënter werken, wat kan leiden tot lagere kosten en betere prestaties. Ook kunnen zij beter inspelen op veranderingen in de markt en de behoeften van klanten, wat kan leiden tot een hogere klanttevredenheid en meer omzet. Dit werkt ook omgekeerd. Als je als bedrijf achterblijft met nieuwe ontwikkelingen en innovaties, loopt de concurrentie je voorbij.
Om deze redenen heeft Klien-IT haar software volledig gemoderniseerd en zijn we druk aan het ontwikkelen met de behoeften vanuit de markt. Wat zijn de veranderingen en waar willen we heen met zijn allen? Ook kijken we verder, automatische vertalers in de app en de mogelijkheid om foto's toe te voegen. Allemaal onderdelen die de administratie en communicatie weer net wat makkelijker maken.
De zinsnede 'stilstaan is achteruitgang', wordt steeds relevanter.
Klien-IT-Systems, just different
Sharp on software, sharp on convenience, sharp on price. Software seems boring, cleaning also seems boring. Inflation is increasing. Too few people realize that cleaning is extremely important for our well-being and prosperity. The same goes for software. Antonio Kouwenberg, Master's student of Fiscal Law, develops Klien-IT-Systems with a team of programmers: "Cleaning and software have similarities and relationships and can be powerful. My goal is to help cleaning companies, small and medium, to focus on their core business: cleaning and/or specialist cleaning. How? Thanks to the constructive, effective, efficient and yet inexpensive software system from Klien-IT-Systems. You also need fewer people in the office. Very handy in this time of labor shortage." How does Klien-IT-Systems achieve such success, also internationally? Antonio tells.
Antonio Kouwenberg is 22 years old and now has 10 years of experience in the cleaning industry. "The cleaning market is an extremely versatile and extensive sector, with 177 nationalities spread over 231,000 employees. A big industry! Naturally, this entails many challenges in terms of HR, customer contact, stigmas and of course the work itself", Antonio kicks off.
Cleaning, not known to everyone
"When I had a part-time job as a teenager at my father's cleaning company, cleaning company Klien, I immediately noticed the challenges. I thought it was fantastic to work in cleaning, worked together with a group of colleagues. We had fun, earned good money and were especially satisfied with the work we did. And we noticed the appreciation. I also often received the response: ' are you a cleaner? Why do you do that?'. I noticed that the cleaning profession was and is portrayed as boring, sometimes even condescending. Shame."
Cleaning involves so much
"In cleaning you learn to work hard, you meet a lot of people and you come to the most special places. Then we are not even talking about the specialist cleaning with all certificates, knowledge and craftsmanship. As a project manager, I saw even more the extras: what are the problems on the shop floor? What should be done on this new project? Who has the necessary key? Quite a few changes in planning, outstanding leave requests and the umpteenth comment from the client, which is written on a 'yellow note' and stuck on the cleaning cupboard. Things you don't want the cleaner to be left with."
The cleaner as a base
Cleaning company Klien has already digitized the processes to organize it as efficiently and well as possible for the cleaning team. "Following our investigation, we concluded that the software systems were expensive, complex and not online. Totally not in line with our sector. We looked further yesterday, so my father and I decided 10 years ago to pick up the software system ourselves and develop it with programmers. Regional cleaning companies asked for it. That question confirmed that the Klien-IT-Systems software system really is a welcome addition to the market. Why? Because of the user-friendliness, simplicity and prevention to prevent problems. The cleaner is our base; if the cleaner has all the necessary information for a well-running and clean project, the operational side of the cleaning company will also go well. It saves a lot of time and positive energy. Our integrated App also turned out to be a golden opportunity in the process."
Cleaning and doing business
Automatic time administration, control schedules, stock system, automatic invoices, accounting: the Klien-IT-Systems App provides a lot of efficiency and overview. "We reduced the office occupancy of Klien (with approximately 90 cleaners) from 6 to 1.5 (!). During the summer holidays there were sometimes even days with no one in the office. Not because they had to help with cleaning (which often happened in the past), but because everything was arranged and structured. And still. It goes without saying that this gives you the space to continue doing business and to expand and grow your cleaning company."
Klien-IT-Systems is affordable for small and larger cleaning companies employees. "No start-up costs, no service subscriptions, no additional costs or additional expensive modules. Just one fixed amount per month and guidance until you understand everything. All future developments are also included in the fixed monthly amount. Our ultimate guarantee factor."
Future
The Klien-IT App is available for employees in 25  languages ​​and for the back office in 5 languages. Antonio: "We are rightly proud that within one year almost 50 companies in the cleaning industry are using our appropriate software system. And we are already active in Belgium, France, Italy and soon in Spain. There is cleaning everywhere and the industry works in a similar way. The software system must be there to unburden the cleaning companies and cleaners and not to burden them. Digitization is really necessary to continue to survive as an entrepreneur, because society and customer requirements are changing rapidly. That is why our mission for now and in the future is: sharp on software, sharp on convenience, sharp on price."
Find the original interview on the website of Schoonmaakjournaal via: https://schoonmaakjournaal.nl/actueel/antonio-kouwenberg-klien-it-systems-net-ff-anders
Klien-IT-Systems contains a complete stock and item system. In this way you always have insight into your current stock, the stock is automatically tracked and your employees can easily place orders from the app when they need items. In this way you have control over the flow of articles within your company. For each project you can indicate which articles are applicable there. This allows your employees to only order relevant items for a project. These orders arrive in your inventory dashboard. Here you can see in one overview what is needed for the projects and you can start processing them. When an order is delivered, the system automatically adjusts the stock. Are you curious about how our integrated inventory system works and what other useful functions we have to offer? Don't hesitate and request a free demo right away!
Smart time registration system on GPS! If you still register the times of your employees on paper, or if you use a cumbersome registration system with a QR code, for example, then we have the solution for you!
Save time and money with the time registration of Klien-IT-Systems. The smart clock-in and clock-out system on GPS automatically uses time registration and location determination as a basis. This allows you to see LIVE in one clear overview where and when everyone is working. This way you are always one step ahead of everyone.
By means of the location determination via GPS you will see in one overview what the location of arrival and departure is. This, in combination with the time of clocking in and out, gives you a detailed overview of the time and place of arrival and departure. Your employees can easily clock in and out on location in their mobile app with one click.
With Klien-IT you can say goodbye to the paper flows within your organization. This not only saves a lot of time and therefore money, but it also ensures overview and peace of mind in the office and the workplace. Everything you need is now securely and structured in your own digital environment that is accessible anywhere and at any time. With Klien-IT you become future-FIT! Are you ready to digitize your time registration and business processes? Or are you curious about what other cleaning-specific functions we have developed? Then take a look at our website (www.klien-it-systems.nl), contact us via info@klien-it-systems.nl or call us on 076 – 520 80 43.
You can also immediately request a free demo and we will come by to explain the entire system. This can of course also be done digitally.
Cleaning as a tool to play a social role.
Partly due to the Covid-19, the turnover of the cleaning company Klien increased only slightly compared to the previous two years. And turnover and profit are above all the conditions for the manager-owner to have a role in society and in local governance.
The portrait of an enthusiastic SME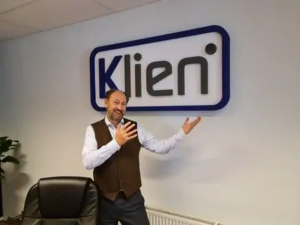 Raymond Kouwenberg (51 years old) is certainly not the classic entrepreneur of a local cleaning company, although his beginnings can be defined as such: a working student who got "stuck" in the cleaning business. While studying civil engineering in 1987, he started working as a student at the cleaning company Klien in Breda, founded in 1974, where he became project manager after two years. After graduating in 1994, Kouwenberg worked for the municipality but remained in contact with Klien, where they worked exclusively with students. "Imagine: in an age without cell phones and laptops, managing, calling and scheduling eighty students," says the entrepreneur. He was good, because in 1997 he became co-shareholder of Klien BV and ten years later director-owner. In 2011, the cleaning company moved into its current almost 200 square meter premises in the De Mark business park in Breda.
Socially involved
On the entrance door there are the stickers 'Accredited training company' and 'We train professionals'. This is only a pale reflection of the projects Raymond Kouwenberg is busy with. To name just a few: the company is a member of nine networks, supports thirteen charities, has the CSR (Corporate Social Responsibility) quality seal, specifies its CO2 footprint on its website and helps people far from job market. Kouwenberg also serves seven functions on the board, including chairman of the VNO-NCW Breda, and is a city councilor for the VVD party. He is involved in at least twenty boards and interest groups. "Cleanliness has been the leitmotif of my life for 34 years. But there are three founding principles in my DNA: government, education and finally business. Being socially involved, helping people, is especially important to me. The trick is knowing how always find a balance between these goals and time for my family, my wife and my three children".
Primarily a cleaning contractor
It seems that this social interpretation prevails over doing business as an entrepreneur in the sector… "No, this is the common thread and it provides the income that gives me the possibility to count something for others. Primarily I am an entrepreneur in the cleaning sector". In this role he manages a company with approximately 85 employees from a subsidiary. Seven of them work in the office, including three project coordinators for implementation. The working area covers a 20 kilometer circle around Breda. "We don't need a bigger area, because this also limits our employees' travel time."
Respect for cleaning work
In 2019, the turnover was 1.7 million euros and for 2020 the forecast is 2 million euros, with a growth of 15%. Here too, the Covid pandemic has thrown a spoke in the works.
"We lost almost €300,000, because the gyms and offices closed. This was compensated to some extent by carrying out many sanitizations. This year, we expect to have a turnover of €2 million. We don't have a burning ambition to grow, we don't we are active in sales and always ask ourselves: Do we want to work there? Is this customer right for us? We prefer respected customers and also demand respect in return, towards the cleaning industry and our employees. If not, we withdraw. We have even canceled a €70,000 contract – a lot of money for a company like this – because the customer spoke disrespectfully about cleanliness and our employees."
Low absenteeism
Kouwenberg says he wants to run a firm that is stable and calm. This seems to work, because employee turnover is just "a bit on the fringes", with newcomers sometimes retiring quickly. Absenteeism is only 1.7%.
Build your own cleaning software
The entrepreneur says he is always working on processes and procedures to optimize cleaning, supported by information technology. "In 2014, three years after we started working in a real business premises, I started looking into the processes around scheduling, clocking in and out, using materials, administrative processes and purchasing. The requirements imposed by customers are increasingly high and a good level of customer satisfaction is becoming more and more difficult to achieve. I know from personal experience that this is especially true for SMEs in this sector with around 40-60 employees. If you don't digitize, you get stuck as a cleaning company. But digitizing with outside help is incredibly expensive for small companies, because you have to pay extra for each module. Over the past few years, I have therefore built my software step by step. A done software from and for the cleaning sector.
Reach small and medium-sized enterprises
The result is that Klien-IT-Systems, led by Kouwenberg junior, has just been born under the umbrella of Klien. The software system includes all modules, including future ones, for small and medium-sized cleaning companies and can be rented for a fixed price: up to 100 employees for just under 300 euros per month.
Is there a relationship between management software and the cleaning sector? "Yes, because our initiative was born from my belief that we need to reach small and medium-sized enterprises in the sector in a field that is still foreign to them, and the lack of digitization is threatening their existence and their growth".
The fears of an employer today
From cleaner to director-owner of the cleaning company where you started as a working student. What is the most difficult aspect of being an entrepreneur? Kouwenberg: "The problems of work. Job security for the employee is paramount, with pillars such as continued payment for two years in case of illness, transition and a high severance pay. However, these are the things that make fear to an employer and which unfortunately disincentivise people to be hired on a permanent basis".
An attractive job
Kouwenberg's advice to politicians in The Hague is to make being an employer attractive again. "We have to move towards flexicurity, which is the new direction of the VNO-NCW and MKB-Nederland. A dynamic labor market, with a guarantee of social and employment security for all rather than the job itself. In other words, security to go to work and stay in work An active labor market policy, lifelong development and modern social security to bring jobseekers back into the labor market permanently. it is now too fixed and flexible is too flexible, for both sides. We need a kind of Scandinavian society where someone can always earn an income through work or receives temporary support".
Added value for the company
Finally, what's the best thing about being an entrepreneur? "Being very involved, getting results and translating them into added value for society," says Kouwenberg. "Helping above all by offering internships, through sponsorship, giving opportunities to disadvantaged people, supporting charities and creating a company characterized by calm and stability."
Have you ever had a precise idea in mind of how something should be, but there's no management system that's really right for you? In the cleaning sector more and more companies are facing this challenge.
You hear the same stories all the time of small businesses getting bogged down in bureaucracy because of increasing customer numbers and manual scheduling. These businesses want to grow, but they simply don't have the right resources and many times they are looking for a system that can simplify certain aspects of their work.
However, many of these systems are often too complex or too expensive, so companies often prefer not to use a software system at all. Many aspects that are relevant to cleaning companies are less important to the vast majority of other companies. As a result, what happens is that software developers often focus on products that primarily satisfy the needs of the largest customer base.
Fortunately there are also cleaning companies that have started working on this. It was already clear to Klien 8 years ago that we had to keep up with the times. The trick is to start early so you have an edge over the rest of the market. Companies that have not started this process in time are often already behind the times. Klien-IT-Systems was created in part to answer this call for help from the industry.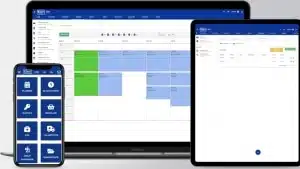 Klien-IT-Systems is a combination of solutions for the administrative difficulties of the sector. We know what the weaknesses are and we know perfectly what the challenges are for cleaning companies. With our management system you can archive your most important data in one central online space. In addition to the system, an application has also been developed where employees can find all the information they need. The application is connected directly to the system, so employees don't have to go to the office as often and it works even faster. Indeed, they immediately receive the information they need. We have fully optimized the system and application for the cleaning industry, and we test it continuously here at Klien.
Since you can never be everywhere at the same time, you need to find a way to understand what your employees are doing where. This is easy in other enterprises because there is a common physical workplace, such as the office. But in a cleaning company it's just the opposite. With our entry and exit GPS tracking, you can always see if your employees are at work and on what shift.
Key transfer is another administrative dilemma. Often when a key is lost it is someone's word against someone else's. Now there is a way to give employees key deposit responsibility. This will help staff, as they can prove that the key is not in their possession, just as it is useful to have an exact overview of who works where and with what key.
Klien-IT-Systems is a combination of solutions for the administrative difficulties of the sector. We know what the weaknesses are and we know perfectly what the challenges are for cleaning companies. With our management system you can archive your most important data in one central online space. In addition to the system, an application has also been developed where employees can find all the information they need. The application is connected directly to the system, so employees don't have to go to the office as often and it works even faster. Indeed, they immediately receive the information they need. We have fully optimized the system and application for the cleaning industry, and we test it continuously here at Klien.
Since you can never be everywhere at the same time, you need to find a way to understand what your employees are doing where. This is easy in other enterprises because there is a common physical workplace, such as the office. But in a cleaning company it's just the opposite. With our entry and exit GPS tracking, you can always see if your employees are at work and on what shift. Key transfer is another administrative dilemma. Often when a key is lost it is someone's word against someone else's. Now there is a way to give employees key deposit responsibility. This will help staff, as they can prove that the key is not in their possession, just as it is useful to have an exact overview of who works where and with what key. Additionally, the system also has a fully integrated accounting package. This means that you will no longer need an external package, because you will have everything centralized in one space. If you would like to keep the accounting package that you already have, we are of course willing to take a look at the various possibilities to keep it together with you.
The complete scheduling system allows you to fully automate the timetable. Employees can see the timetable and request time off or changes through the application. Thanks to this feature, you will always have a clear and complete perspective, which will allow you to adjust your schedule at any time. In addition, you will save a lot of paperwork and nothing will be lost, since everything is stored in the system.
In addition to this, the system includes all the features that small and medium-sized businesses need to thrive in the digitized world of the cleaning industry. The question is, of course, what future are we headed towards? At Klien-IT-Systems we are continuously working to improve and innovate our system and application. We listen to customers and staff who work with our system, so we are always open to suggestions, criticisms and new ideas. We use criticism and suggestions to fulfill the wishes of our customers in the best way.
Our management system is clear and easy to use for the customer, improves the working environment and saves a lot of time and energy.
There is also a well-trained team behind this digital world, so if something is still not entirely clear to you, our team will be happy to help. We will do our best to make sure your digitizing process is as easy as possible.
With Klien-IT-Systems you prepare urself for the future!
If you use old automation processes, your vision of the future for your company is destined not to be fulfilled. This is certainly a shame, as digitizing and automating your business can bring you huge profits.
That's why we're happy to help you make this process go smoothly, so you can take advantage of a system that's up to date.
Are you curious to know what we can do for your business or do you have other questions? Check out our website www.klien-it-systems.com, contact us at info@klien-it-systems.nl or call us on +31 765208043.
Do you want to discover our system? Request a free demonstration now with no commitment!
Say goodbye to planning with Excel!
We can safely say that the success of a cleaning company is mainly due to easy, agile and well organized planning. However, in recent years, we have noticed that in many cleaning companies there are complicated planning tables, created for example with Excel or other software. The question that arises spontaneously is therefore the following: why do so many companies depend on Excel for personnel planning? Of course, it's easy to get started with Excel, but clumsiness, typos, and general limitations of the program itself lead to problems in the long run.
Here we list four reasons why Excel will cause you trouble:
1. Time changes
With Excel even the smallest change lets you delete and add rows and columns, change colors, merge cells and many other changes. Clearly, this makes it impossible to respond quickly to the new time change.
2. Individual schedules
Different departments and locations each have their own worksheets, so to get a general overview of enterprise planning you will need to merge and integrate all worksheets. The problem is that by the time you're done, time scheduling will have become obsolete!
3. Search and replace
Let's imagine that the colleague who usually manages the planning with Excel cannot work today and therefore you have to search for another colleague via the Excel search function. The problem, however, is that it is not obvious that any of the other colleagues know how to use Excel or have the right skills to be able to create a detailed schedule with the program.
4. Plan for the next day
It is very unusual for clear and well-structured digital planning to be communicated to employees with Excel, especially if it has to be done today for tomorrow. Similarly, if you try to communicate time with manual scheduling, it usually gets confusing.
Conclusion- Planning with Excel won't help you grow as a business!
It often happens that cleaning companies continue to use confusing software and processes. This can happen due to lack of time to sift through all options and adopt a new and better system. In reality, however, you save a lot more money and effort by stopping using Excel! The Klien-IT-Systems solution for the cleaning industry At Klien-IT-Systems all planning is stored in the cloud, allowing you to view and adjust the timetable from anywhere and at any time.
In addition, our planning is very clear, simple and advanced. For example all employees can see their timetable on their app, both for general and specific timetable overviews. Find out how planning on our software works in our blog or request a free demonstration to see all the possibilities that Klien-IT-Systems software offers you.
What is an ERP system?
ERP is the abbreviation for enterprise resource planning. An ERP system is actually software that is used within organizations to support all processes within a company. To achieve this, the administrative, financial, commercial and logistical processes are housed under this system.
What is the meaning of an ERP system?
Klien-IT-Systems has its own ERP system to simplify all administrative tasks in the cleaning industry. Think of the schedules, time registration, accounting tasks and more. But what exactly is an ERP System? In this article we explain it for you. Companies that do not yet use an ERP system often work with different software packages. As a result, information cannot flow directly from one department to another. An ERP system provides all employees of a company with a central, shared working environment in which data is recorded once. This working environment is accessible to everyone at any time of the day. In this way, everyone within the company has the same information at their disposal. As a result, less time and money has to be spent on correcting errors, resulting in the saving of time and money. A good ERP system automatically leads to lower costs, shorter process times and better service.
An ERP system has several advantages for a company, the main ones will be mentioned below. An ERP system ensures that all data can always be used directly by every employee. This makes employees more productive and also strengthens internal collaboration. In addition, work can be carried out in different ways, each employee has his / her own way of working. The implementation of an ERP system ensures standardization of the way in which work is done within the company. The system forces employees to follow the prescribed procedures, other business rules can also be entered. When implementing an ERP system, the best practices of a specific business task can be used to optimize the processes. This makes it easier to achieve and maintain a quality standard. In addition, the transfer of a task no longer costs so much time and energy. Some activities within a company are standard and must be performed daily to keep the company running. The automation of work can yield enormous time savings for employees. In addition to the work, the business processes are also essential within the company. Analyzing business processes is essential when it comes to the development of a company, with an ERP system all business processes can be connected. As a result, more extensive reports can be drawn up, because the analysis software has more sources to draw figures from and can therefore display more depth.
What is an ERP system for cleaning companies?
With the ERP system from Klien-IT-Systems you have all the business processes of your cleaning company in one system, a total overview of all departments and data. From accounting to planning, everything can be found in our ERP system. The ERP system has a fully integrated accounting package, so no external package is needed anymore. With the help of our system you can fully automate your planning. Employees can also view this planning via an app and request leave. The system contains a smart clock system with time registration and location determination. Employees can easily clock in and out with a mobile app. You can also gain insight into the absenteeism of employees. In addition, you can keep an up-to-date overview in the system of who owns which key. With the help of the ERP software you always have insight into the figures. This way you can easily manage the debtors and send payment reminders. You also gain insight into the payment behavior of customers. In addition, the invoices are created automatically, which saves a lot of time. Another big advantage of the system is that you can find all data in one central place. This way you are always aware of current figures and no data is lost when staff leave. This way you can find all employee and project data in the system. The relationships can also be tracked in the ERP system so that you always have insight into this. In addition, the ERP software also has an app for employees in which they can view all the necessary data directly on the work floor. Things like clocking in, viewing planning and requesting leave can also be done via the app. Of all software packages, Klien-IT-Systems is best suited to the cleaning industry. As a result, our software for cleaning companies contains all conceivable functions that you need. The ERP system is made for all cleaning companies. This allows you to manage your business processes from one central system. Our system provides peace of mind, overview and relief of administrative pressure. The software is affordable, complete and industry specific for cleaning companies. In this way we want to give the entire cleaning industry the opportunity to digitize. In this way we help every company to keep up with current developments.
Curious how such a system works in practice? Request a free demo ! Do you want to know more about how an ERP system works or what the possibilities are for your company? Feel free to contact us via the contact form, via info@klien-it-systems.nl or call us on 076 – 520 80 43. If you are interested in our system, request a demo without obligation!