Einde stageperiode!
De afgelopen  5 maanden hebben Myduyen en Corinne stage gelopen bij Klien-IT-Systems. Myduyen heeft tijdens haar stage een proces opgezet om de klanttevredenheid te meten. Corinne heeft ons geholpen bij de positionering van Klien-IT-Systems op de Italiaanse markt en bij het verkennen van verdere internationale mogelijkheden voor ons bedrijf en softwaresysteem. Bedankt voor jullie inzet en bijdrage aan ons bedrijf en veel succes in de toekomst!
Lees hieronder hoe Myduyen en Corinne de stage hebben ervaren bij Klien-IT-Systems:
Myduyen Nguyen
"Toen ik mijn stageperiode begon in februari wist ik niet wat ik kon verwachten en vond ik het heel spannend. Gelukkig werd ik goed opgevangen, waardoor ik snel mijn plekje vond. Je krijgt veel vrijheid binnen Klien-IT-Systems en je bent erg betrokken als stagiair. Tussen het werken door was er genoeg ruimte voor een leuk praatje. Daarnaast heb ik mooie kansen gekregen om mijzelf verder te ontwikkelen.
Ik heb mijn stage ervaren als een gezellige en leerzame tijd met betrokken collega's. Ik wil daarom alle collega's van Klien-IT-Systems enorm bedanken voor de fijne begeleiding en sfeer gedurende mijn stageperiode. En ik wens de organisatie veel succes in de toekomst."
Corinne Cipolla
"Klien-IT-Systems is a young company that strongly relies on young people. I realized this from the very beginning when everyone was interested in my opinions and ideas.
Responsibility, independence, and engagement are the keywords that describe these months. During this period, I tried new tools (like Google Ads and WordPress), made the marketing plan, and created social media content. Moreover, I took over customer acquisition, thus managing a process going from leads collection to contract drawing up.
Meanwhile, I wrote my thesis and was supported by my colleagues, who provided me with materials, and took part in interviews, questionnaires, and tests. Thanks to their collaboration, I could carry out all my tasks and achieve my goals.
My effort was recognized and appreciated by Mr. Raymond and Antonio Kouwenberg, the two owners and CEOs. The relationship established with them is not merely formal and goes beyond the hierarchic structure typical of Italian firms. Care for the individual, their needs and potential characterize Klien-IT-Systems work environment."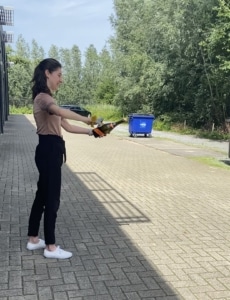 https://klien-it-systems.com/wp-content/uploads/2022/06/Instapost-34.png
1080
1080
Antonio Kouwenberg
https://klien-it-systems.com/wp-content/uploads/2021/08/Klien-It-Systems_Logo-wit_site.png
Antonio Kouwenberg
2022-06-24 11:42:59
2022-06-24 11:44:16
Einde stageperiode!