An ERP system is software that organizations use to actively support and integrate all processes within their company. This system effectively encompasses administrative, financial, commercial, and logistics processes, ensuring seamless operations.
Quale il significato di un sistema ERP?
Klien-IT-Systems has its own ERP system to make all administrative tasks in the cleaning industry easier. Think of the schedules, the time registration, accounting tasks and more. But what exactly is such a System? In this article we explain it for you. Companies that do not yet use an ERP system often work with different software packages. As a result, information cannot flow directly from one department to another. With an ERP system, all employees of a company get a central, joint working environment in which data is recorded once. This working environment is accessible to everyone at any time of the day. In this way, everyone within the company has the same information at their disposal. As a result, less time and money has to be spent on correcting errors, resulting in a saving of time and money. A good system automatically leads to lower costs, shorter process times and better service.
Advantages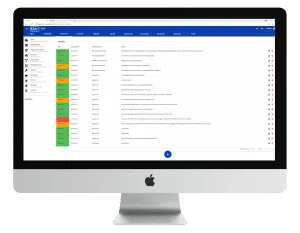 An ERP system offers a company several key advantages, and we'll outline the most crucial ones below. An ERP system guarantees that every employee can instantly access and utilize all data, boosting employee productivity and fostering internal collaboration. Furthermore, it accommodates various work styles, recognizing that each employee has their unique approach. Implementing an ERP system enforces standardization in how the company operates.
Cultivating Efficiency and Quality with ERP Systems
The system actively enforces employees to adhere to established procedures, and it allows for the introduction of other company rules. When integrating an ERP system, it leverages the 'best practices' of specific business tasks to optimize processes, simplifying the attainment and maintenance of high-quality standards. Moreover, task transfers are no longer as time and energy-consuming.
Certain daily standard activities are crucial to a company's operations, and the automation of these tasks results in substantial time savings for employees. Beyond these tasks, business processes play a vital role within the company. Analyzing these processes is essential for a company's growth, and an ERP system seamlessly connects all business processes.
As a result, the system enables the generation of more extensive reports. The analysis software has access to multiple data sources, enhancing its ability to provide in-depth figures and insights.
Che cos'è un sistema ERP per il settore delle pulizie?
Klien-IT-Systems' ERP system offers a centralized solution for your cleaning company, streamlining all your business processes and providing a comprehensive overview of every department and data. From accounting to planning, everything you need is within our ERP system, eliminating the need for external software. Our integrated accounting package ensures seamless financial management.
Our system allows you to fully automate your scheduling, and employees can conveniently access and request leave through a mobile app. With our smart clock system, time tracking and location monitoring are a breeze, providing insights into employee absenteeism. You can also effortlessly manage key ownership within the system.
Our ERP software provides real-time insights into financial figures, simplifying debtor management and automated payment reminders. Additionally, it generates invoices automatically, saving you valuable time. With all your data in one central place, you'll always have up-to-date information, even when staff changes occur.
Our ERP system also offers an employee app for on-the-floor access to essential data, including time registration, schedule viewing, and leave requests, ensuring efficient operations.
Why us?

Of all software packages, Klien-IT-Systems is best suited to the cleaning industry. As a result, our software for cleaning companies contains all the functions you need. The ERP system is made for all cleaning companies. This allows you to control your business processes from one central system. Our system provides peace of mind, overview and alleviation of administrative pressure. The software is affordable, complete and industry-specific for cleaning companies. In this way we want to give the entire cleaning industry the opportunity to be able to digitize. In this way we help every company to keep up with current developments.
Request a demo!
Curious how such a system works in practice? Request a free demo! Would you like to know more about how an ERP system works or what the possibilities are for your company? Feel free to contact us via the contact form, via info@klien-it-systems.it o chiamaci al +39 3474980775. If you are interested in our system, request a demo without obligation!