Digitalization in the cleaning industry
Have you ever experienced that? You visually have a complete picture of what something should look like, but there is no ERP system that actually does what your specific service needs. Within the cleaning industry, more and more companies are struggling with this dilemma.
You hear the same stories over and over about small businesses that end up in red tape because of a growing customer base and manual planning. These companies want to grow, but simply don't have the resources. They often look for a system that can make certain things easier.
However, many of those systems are often too extensive or too expensive, which means that companies are often deterred from using a system. Many matters that are relevant for cleaning companies are less relevant for the vast majority of companies. As a result, system developers often focus on serving the largest group of customers by setting up their system accordingly.
Fortunately, there are also cleaning companies that have started working on this. At Klien cleaning BV it was already clear 8 years ago that they had to keep up with the times. The trick is to start this in time, so that you have an edge over the rest of the market. The companies that have not started this in time are often behind the times. Klien IT-Systems was created partly due to this call for help from the sector.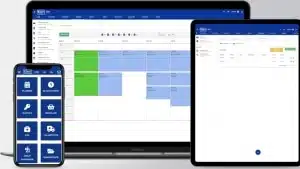 Klien IT-Systems is a combination of solutions for administrative difficulties within the industry. We know the bottlenecks and know exactly what other companies within the sector are struggling with. With our ERP system you can store all your important data in one central online place. In addition to the system, an application has also been developed in which employees can process all the necessary information. The application is directly linked to the system, so employees don't have to go to the office as often and it also works faster from the office. They immediately receive the necessary information. We have fully optimized this system and application for the cleaning industry and continuously tested it at the cleaning company Klien.
Due to the fact that you can never be everywhere at once, you need to find a way to keep track of what your employees are doing and where they are. At other companies, this is easy to keep track of, because they are all located in the office, for example. But with a cleaning company, it's quite the opposite. With our GPS clock in and out, you can always see whether your employees are on location and at which time slots.
The transfer of keys is also an administrative dilemma. Often when a key is lost it is word against word. Now there is a way to give employees responsibility for key handovers themselves. This will help the employee, because he or she can prove that the key is not in his or her possession. But it is also useful to have insight into exactly who is walking around where and with which key from the administration in the office.
In addition, the system also has a fully integrated accounting package. This means that you no longer need an external package, so that all things remain in one central place. If you would like to keep your own accounting package, we are of course willing to look at the possibilities together.
The complete scheduling system allows you to fully automate scheduling. Employees can view the schedule and request leave via an application. Because the employees can request leave in the application, you always have a complete and clear overview and you can easily adjust the planning accordingly. In addition, it will save a lot of paperwork and nothing can be lost, since everything is stored in the system.
Furthermore, the system includes all functionalities that SMEs need to grow within the digitizing world of the cleaning industry. The question is, of course, where are we going in the future? At Klien IT-Systems we are continuously working on improving and supplementing our system and the application. We listen to customers and employees who work with our system, so we are always open to feedback and new ideas. We use the feedback to make the system meet the customer's wishes even better.
The ERP system is clear and user-friendly, which improves the working atmosphere and saves a lot of time and energy.
There is also a team behind which is skilled in the digital world, so if there is something that is not yet clear to you, our team will be happy to help you. We will do our utmost to ensure that your digitalization process runs as smoothly as possible.
With Klien-IT-Systems you become Future-FIT.
If you only stick to digitization or outdated automation processes, your future plan is doomed to fail. This is of course a huge shame, since the digitization and automation of your company can provide you with enormous benefits.
This is what we are happy to help you with to ensure that everything runs smoothly, so that you can enjoy a future-fit system.
Curious about what we can do for your company or do you have any questions? Please take a look at our website (www.klien-it-systems.nl), contact us via info@klien-it-systems.nl or call us on 076 – 520 80 43.
Are you interested in our system? then request a demo without obligation!
[/av_textblock]
[av_social_share title='Share this entry' buttons='' btn_action='' share_facebook='' share_twitter='' share_whatsapp='' share_pinterest='' share_reddit='' share_linkedin='' share_tumblr='' share_vk='' share_mail='' share_yelp='' yelp_link='https://www.yelp.com' share_five_100_px='' share_behance='' share_dribbble='' share_flickr='' share_instagram='' share_skype='' share_soundcloud='' share_vimeo='' share_xing='' share_youtube='' facebook_profile='' twitter_profile='' whatsapp_profile='' pinterest_profile='' reddit_profile='' linkedin_profile='' tumblr_profile='' vk_profile='' mail_profile='' yelp_profile='' five_100_px_profile='' behance_profile='' dribbble_profile='' flickr_profile='' instagram_profile='' skype_profile='' soundcloud_profile='' vimeo_profile='' xing_profile='' youtube_profile='' style='' alignment='' av-desktop-hide='' av-medium-hide='' av-small-hide='' av-mini-hide='' alb_description='' id='' custom_class='' template_class='' av_uid='av-3po24g' sc_version='1.0']
Read the story of our founder - Antonio Kouwenberg
From home I have always been told that in addition to studying, you should also learn to work, in order to simply roll up your sleeves. That is why I started my first job at the age of 14 as a brochure boy at Klien BV cleaning company.
From that moment on I started to grow in my father's company and I had various jobs, resp. cleaner, administration and project manager.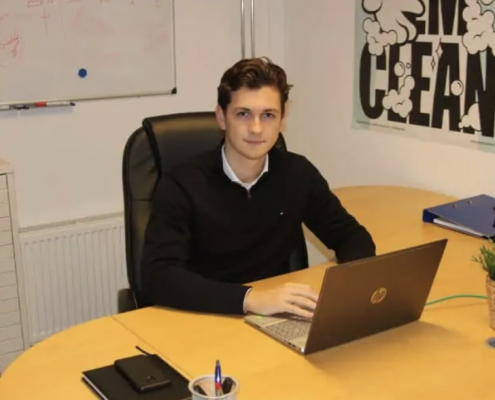 Over time, I noticed that due to the growth of Klien, a lot of time was lost to the daily hectic and (extensive) administration. More and more employees were needed in the office to get everything arranged. The company's information was not centrally organized and people were too dependent on each other's memory. I thought this could be different, the processes from 1974 had to be automated, we had to innovate.
Within Klien we had a technician in our midst who arranged all ICT-related issues for us. In addition, he is also extremely good at programming apps, websites, systems and so on. This gave us the idea to develop our own system for Klien, a system that would overcome all problems and actions. As a result, no information would run out, the administrative burden would be relieved and the company would run from one central point, one collective remembrance.
I then started devising a system together with my father, the office staff and our technician. What do we all need, where do we start and what do we want to achieve?
In the end we decided to start with a planning system, linking it to the hours administration, salaries and invoicing. A simple basis to add and expand everything we needed from there. For every problem we encountered, we made a protocol, consulted with our technician and looked at the possibilities.
In this way, our system continued to grow and became a serious part of our company. As a result, we noticed that the administrative pressure decreased considerably, the daily hectic was increasingly overcome, we needed fewer people in the office and the peace and quiet increased.
Because (partly due to our system) Klien grew considerably and programming is very expensive, we also started looking at other software systems for the cleaning industry. Which ones would there be and what do they have to offer?
We soon came across a number of software suppliers and started doing further research. To our great surprise, these systems were not (much) more extensive than ours, but they were extremely expensive, cumbersome and far from complete. The costs would also increase considerably if you wanted an extra module, which we simply had in-house. Hell no! we thought. This then stimulated us even more to further develop the system and make it a complete whole.
By the end of 2019 it had grown into a full an complete system. In the meantime, we had regularly received compliments from other cleaning companies and asked if they could use our system.
The entrepreneurial blood in me started to bubble and we decided to prepare our ERP system to bring it to market. Because of our experiences with the existing software suppliers, we wanted to offer a complete all-in-one software package at an affordable price, so that the small cleaning entrepreneur also had the opportunity to innovate. We wanted to lift the entire cleaning industry to a higher level with our system. With this Klien-IT-Systems BV was born.
Marketing, however, still required an enormous amount of work. Because we had been developing this system since 2015, the complete system had to be converted to another frame. It had to be given a more modern look and be able to support a customer base for the system. We also started developing an additional app. We started this at the beginning of 2020.
Since the development of the system was mainly digital and we were still in the infancy at the beginning of 2020 with the start-up of our new company, Klien-IT-Systems BV, fortunately the arrival of Covid-19 had little effect on the developments.
With our system we were actually one step ahead of Corona. Cleaning company Klien BV was already fully digital, so everyone in the office could work directly from home without any problem and our 85 cleaners could continue to follow all processes (planning etc.) digitally. We had clearly started digitizing and innovating on time.
We also saw the arrival of Covid-19 as an extra opportunity to help other cleaning companies in their innovation and digitization. Certainly in times of a lockdown, when everything comes to a standstill and you see the turnover taking back, an affordable alternative to a complete software package that also saves costs is always welcome.
From January 1, 2021, our website has gone online and we are now welcoming our first customers.
[/av_textblock]
[/av_one_full]
[av_social_share title='Share this entry' buttons='' btn_action='' share_facebook='' share_twitter='' share_whatsapp='' share_pinterest='' share_reddit='' share_linkedin='' share_tumblr='' share_vk='' share_mail='' share_yelp='' yelp_link='https://www.yelp.com' share_five_100_px='' share_behance='' share_dribbble='' share_flickr='' share_instagram='' share_skype='' share_soundcloud='' share_vimeo='' share_xing='' share_youtube='' facebook_profile='' twitter_profile='' whatsapp_profile='' pinterest_profile='' reddit_profile='' linkedin_profile='' tumblr_profile='' vk_profile='' mail_profile='' yelp_profile='' five_100_px_profile='' behance_profile='' dribbble_profile='' flickr_profile='' instagram_profile='' skype_profile='' soundcloud_profile='' vimeo_profile='' xing_profile='' youtube_profile='' style='' alignment='' av-desktop-hide='' av-medium-hide='' av-small-hide='' av-mini-hide='' alb_description='' id='' custom_class='' template_class='' av_uid='av-9tr6h' sc_version='1.0']