Time Registration - An essential part of your company
From May 2019 time registration is an official obligation in our cleaning industry. Employers must indicate the following for each employee during an inspection:
Start and ending of working hours;
Breaks and overtime hours;
Furlough, vacation and sick hours.
Cleaning companies can determine themselves how they organize the time registration of their employees. But if the time registration is missing or incomplete, the government may impose fines. These can go up to €10.000 per staff member!
When a check takes place, it is therefore necessary to provide direct insight into the time registration of all employees. You are not waiting for a sky-high fine.
With our system, we help the cleaning industry in two ways:
With our clear time registration system;
With a smart and advanced clocking in/out system.
Hour registration
With Klien-IT-Systems, your employees can easily register their hours worked, breaks and overtime via the app. This is just a matter of a few clicks for practical use.
Subsequently, the hours confirmed by your employees are stored in a digital timesheet overview. Per employee, can be seen: on which project, when, for how long and with which breaks he/she has been. In this way, with our system you can view the time sheets of your employees anywhere and at any time and have the correct proof at all times.
Clocking in/out system
In addition to the essential time registration, our system also has a clocking in/out system on GPS.
With this system, your employee can easily clock in when he/she starts cleaning. When your employee has finished cleaning, he/she clocks out in the same way. In this way it is possible to keep track of who has clocked in where and how much time  your employees have actually worked (with any breaks and overtime) at the correct location by means of the built-in GPS.
These correct clock times are then also stored in the system and saved.
The Klien-IT-Systems system takes care of the entire time registration with control function for your company.
Are you interested and do you want to know more? Take a look at our website  (https://www.klien-it-systems.com) or contact us via  info@klien-it-systems.com.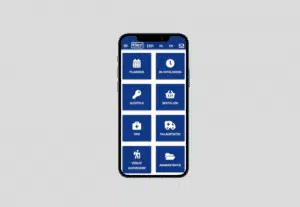 [/av_textblock]
[/av_one_full]
[av_social_share title='Share this entry' buttons='' btn_action='' share_facebook='' share_twitter='' share_whatsapp='' share_pinterest='' share_reddit='' share_linkedin='' share_tumblr='' share_vk='' share_mail='' share_yelp='' yelp_link='https://www.yelp.com' share_five_100_px='' share_behance='' share_dribbble='' share_flickr='' share_instagram='' share_skype='' share_soundcloud='' share_vimeo='' share_xing='' share_youtube='' facebook_profile='' twitter_profile='' whatsapp_profile='' pinterest_profile='' reddit_profile='' linkedin_profile='' tumblr_profile='' vk_profile='' mail_profile='' yelp_profile='' five_100_px_profile='' behance_profile='' dribbble_profile='' flickr_profile='' instagram_profile='' skype_profile='' soundcloud_profile='' vimeo_profile='' xing_profile='' youtube_profile='' style='' alignment='' av-desktop-hide='' av-medium-hide='' av-small-hide='' av-mini-hide='' alb_description='' id='' custom_class='' template_class='' av_uid='av-gi8kr' sc_version='1.0']